Windows produced in line with the bluEvolution: 82 system are six-chamber windows with Salamander profiles. The latest generation of warm bluEvolution: 82 windows is the optimum combination of innovative technology and best thermal protection parameters appropriate for passive constructions. The windows of this system provide the highest possible level of energy efficiency and thus the greatest savings in heating as compared to the cost of their purchase. Large outer chambers applied effectively improve ventilation and cooling of profiles and facilitate drainage of water.
For more information download : BluEvolution -82 brochure
PVC SALAMANDER PROFILES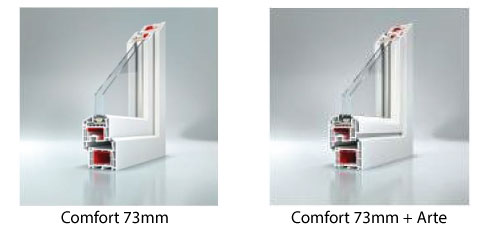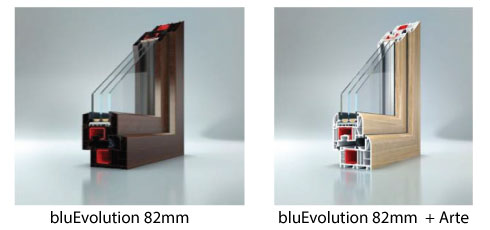 CHARACTERISTICS :
Profiles:
6-chamber frame and sash profiles made of the highest quality PVC material :
Energy efficient
Eco-friendly
Resistant to harmful influence of atmosphere
Very good stability
Glass :
3-chamber packets of heat-isolating glass with thermal insulation coefficient of Ug = 0.5 W/m²K, in case of glazing filled with argon, which is the best on the market. There is a possibility of using any glass packets (thermal, acoustic and anti-theft) with width of up to 52 mm.
Glass fixing :
Deep fixing of glass additionally improves thermal insulation of a window.
Gaskets :
2 AD seals systems can be chosen with 2 thrust gaskets or MD with an additional central seal.
Huge outer chambers :
They effectively facilitate ventilation and cooling of profiles (less thermal stress) as well as water drainage.
Reinforcements : 
There is a special system of galvanized steel reinforcements.
PVC :
Resistant to harmful influence of atmosphere and contamination, smooth surface of profiles facilitates keeping them clean
Colours :
A broad colour palette of the profiles, not only the smooth ones but also wood-like ones, including those of precious wood.
Scope of application :
Windows made of PVC in white colour and the broad colour palette of smooth colours as well as wood-like colours, without any formal or functional limits.
Technical data :
Uf =1.0 W/m²K (MD version), Uf=1.1 W/m²K(AD version) Ug =0.5 W/m²K (glass 4/16/4/16/4 + argon) Uw =0,7 W/m²K (for a reference window of the MD system
WIDE RANGE OF COLOURS :
SOME OF OUR PROJECTS :